A systematic review of RFID applications and diffusion: key areas and public policy issues
Journal of Open Innovation: Technology, Market, and Complexity
Technology, Market, and Complexity
2015
1:9
Received: 7 July 2015
Accepted: 11 August 2015
Published: 4 September 2015
Abstract
RFID applicants called as e-ID, smart tag, and contactless smart card are being applied to numerous areas in our daily life, including tracking manufactured goods, currency, and patients to payments systems. To review these various applications of RFID is important to exploring not only ongoing e-governance issues such as digital identification, delivery process, and governance but also business oriented application areas like supply chain. Through a systematic review methodology from 111 previous studies about RFID technology for public sector, we found six key areas of RFID applications: defense and security, identification, environmental applications, transportation, healthcare and welfare, and agriculture-livestock. We also suggest that the diffusion and applications of RFID can involve unexpected disadvantages including technological deficiency, uncertain benefits, dubious transparency, uncomfortable privacy issue, and unequal distribution of digital power and literacy. Further research on RFID impact includes not only various theoretical issues of but also legal and managerial problems. Rigorous research is required to explore what factors are critical to adopt and implement new RFID applications in terms of technology governance and digital literacy. Massive data driven research is also expected to identify RFID performance in government agencies and various industry sectors.
Keywords
RFIDDigital identificationDigital deliverySmart tagContactless smart card
Background
RFID technology has been widely implemented all over the world and its impact on our daily life is very diverse and massive (Li et al., 2006; Wyld, 2005). Those diverse areas of RFID application include logistical tracking, monitoring and maintenance of products, product safety and information, and payment process. Today many governments around the world in both developed1 and developing2 countries are trying to apply it for various areas from tracking manufactured goods, currency, and patients to securing sagety of payments systems. Massive RFID applications around all the industry sectors and countries are expected to generate a huge potential benefits for sustainable efficient energy infrastructure, transportation safety, and health care. Over the past 50 years, RFID technology went through innovations and progressions to become a more efficient and effective gadget for human beings as well as effective solutions of technical and organizational problems in various industry sectors. However, key issues of appropriate ICT technology, governing networks among RFID domains, standardization requirement, and privacy still remain unsolved3.
We review previous literature about RFID technology used in public sectors in order to identify what has been done and found to suggest policy implications and further research agenda. More specifically, we discuss four aspects regarding RFID research issues and policy implications. First, we examine various competing concepts of RFID use by governments all over the world. Second, we categorize numerous applications of RFID technology through analyzing previous literature. Third, we try to figure out technological issues and governance problems that RFID technology faces today. Last, we draw key public issues and suggest future research agenda.
Methodology of the RFID literature review
A brief history of RFID technology
RFID technology was emerged as Frederick Hertz found existence of radio frequency during his experiment in 1886 (Wyld,
2005
) and developed for the purpose of defense during the Second World War
4
. During 1970s and 1980s, the RFID system attracted plenty of scholars and innovators, so efforts to register patents progressed (Takahashi,
2004
). Researchers like Charles Walton had registered a patent to use RFID. In the 1980s, many US and European companies recognized the importance of developing RFID technology and started to manufacture RFID tags. Soon scholars at MIT University opened an Auto-ID center to promote the use and implementation of RFID technology. But most of the scholars report that the first commercialization of RFID technology was done by Wal-Mart as they launched RFID based material identifying system in 2005 (Shahram and Manish
2005
). Wal-Mart is now tracking merchandise including food, apparels, and electronic items with RFID technology in their supply chain.
5
. RFID technology is a brand new policy tool that can ensure high transparency, efficiency and effectiveness not only in industrial areas but also in government service delivery. Table
1
describes a brief history of how RFID technology was developed and diffused.
Table 1
A brief history of RFID technology
| Date | Event |
| --- | --- |
| 1886 | The idea of using Radio Frequency to reflect waves from objects was started from Frederick Hertz's experiment. |
| 1930–1940 | American navy research laboratories developed a system known as IFF (Identify Friend or Foe). |
| 1940–1950 | The first application of RFID consisted of identifying allied or enemy planes during WW2 through the use of IFF system. |
| 1973 | Charles Walton, a former IBM researcher registered patent using RFID technology, a radio-operated door lock. |
| 1980–1990 | Many US and European companies started to manufacture RFID tags. |
| 2003 | The Auto-ID center for MIT became EPC global, an organization whose objective is to promote the use and adoption of RFID technology. |
| 2005 | Wal-Mart launched and RFID pilot. |
Research design for a systematic review
We searched online data base and expert based information to identify RFID publications between 2003 and 2015. We categorized RFID applications and analyzed issues and concerns that RFID faces today by systematically reviewing published literature. We have collected literature we use for systematic review from two different resources. First, most of the studies are found by searching the e-database. We could access electronic databases, such as Google Scholar, World Web of Science (WWS), Proquest Central, and Science Direct through Seoul National University's main library homepage. We had set 'RFID technology', 'RFID government,' 'RFID application, and 'RFID issue' as keywords for searching literature. We found most of the research through this method of searching. The second method we used for collecting data was having discussions with experts. To do this, we first made a list of experts who specialize in IT technology, Science technology, and public administration. Five experts agreed to help us and recommended some research papers that were known for their fluent flow of logic and plentiful contents. We chose relevant research papers from among experts' recommendations. In sum we had used previous literature collected from two methods we discussed above, searching e-database and asking experts, as our resource of searching.
[Figure
1
] shows analytical frame that we use for this study. We have determined the literature for systematic review according to three stages shown on the flow chart. First, the original total number of studies we have found from the e-database was 4260. Also 185 research papers were found from experts' recommendations and previous public papers. A total of 4,445 studies were chosen through the first stage. Second, we excluded 4,121 following general eligibility criteria by screening title and abstract. More specifically, we excluded RFID studies only with one of the following criteria: 1) studies focusing on private sector; 2) studies without considering how public sector implemented RFID technology; 3) studies that did not discuss any social scientific implications; and 4) studies that only deal with RFID technology from pure scientific and engineering points of view. In sum, we included only 324 papers that discussed RFID issues and their implications in public sector. Third, we removed further 213 studies too much focusing on private sector or RFID technology itself, rather on its applications in our society and social scientific implications. Finally, 111 articles were chosen for our systematic review.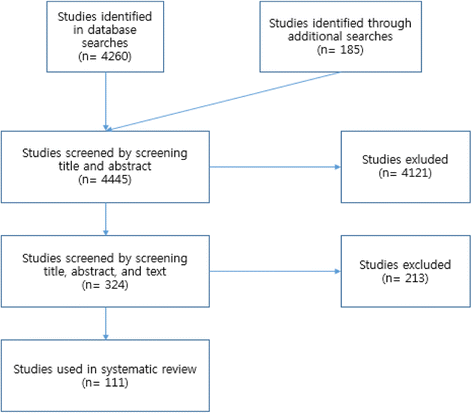 [Figure
2
] below showed descriptive statistics of collected literatures by published year. It shows 22 studies were published in 2007 among 111 literatures. As we already described above in history of RFID section, the popularization and commercialization of RFID technology was started in 2005 with Wal-Mart's adoption. It seems that after Wal-Mart's innovative footsteps hit the world, many scholars were started to recognize the potential of new technology and tried to understand and develop RFID technology. Besides some governments from all over the world implemented new way of public service delivery using RFID technology. Consequently, 49 literatures were publishedbetween 2006 and 2008 and it forms almost 45 % of our collected studies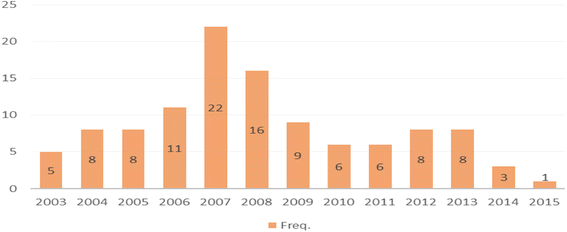 For this study, we categorized governments' way of using RFID technology in 6 areas; Agriculture and Livestock, Defense and Security, Environmental Applications, Healthcare and Welfare, Identification, and Transportation. [Figure
3
] shows descriptive statistics of collected literatures categorized by applications. We categorized studies that did not focus on specific sector and analyze and introduce RFID technology from the general perspectives as 'RFID general'. 'RFID general' studies usually deal with various ways of using RFID technology in diverse sectors simultaneously. As we can see from [Fig.
3
], RFID general area had 42 papers. That means still lots of RFID studies could not be fully specialized and remained in status of generally introducing RFID technology. Identification sector scores secondly highest number of published literatures among areas. This result seems natural because e-ID card or e-Passport have most powerful force that can hurt privacy, one of the most serious and notorious issues that RFID technology face today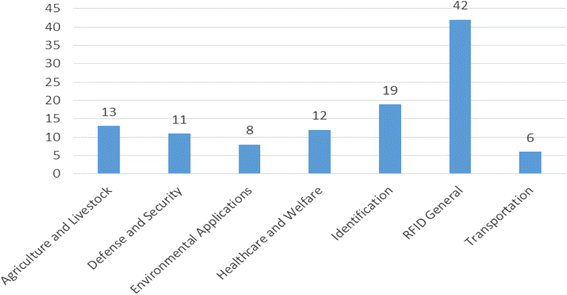 Key applied areas of RFID
Public policy issues from RFID diffusion
RFID applications and diffusion generate complex policy and governance problems. We address public policy issues such as technological gap and uncertainty of expecting potential benefits and costs from a rapid and massive RFID diffusion. Uneasy governing issues in transparency, digital identification and power distribution are arising from inappropriate RFID applications. We discuss governance issues such as corruption, privacy problem, and digital monopoly and literacy in the following.
Discussion and Conclusion
We found, relying on a systematic review from 111 RFID studies, six key areas of RFID applications. Specifically in the defense and security section, we addressed how military and airports/ports manage RFID systems to ensure security. We also found that RFID is effectively implemented in prison management and child protection programs. Numerous governments have introduced RFID identification tools such as e-passport and e-ID. RFID systems for waste management and street tree management are widely used from rich to poor countries. In healthcare and welfare delivery, RFID based smart cards have turned out to be very efficient. RFID is now being used to monitor counterfeit drugs. RFID has been applied to delivering service for the impaired and to trace infection. However, despite potential benefits from RFID applications, various unexpected problems arise. RFID can still involve technological deficiencies, especially in securing cryptography techniques, international standards of frequency, and storage capacity. RFID technology is not still enough to be efficient and effective in some areas (Becker 2004, Jensen et al. 2007). Tag and reader corruption can hurt transparency and security. Privacy issues are still the most serious issues that RFID faces today (Naumann and Hogben 2008). RFID itself can generate new unequal digital literacy and power distribution, especially in developing countries such as Thailand and Bangladesh. Even the most latest innovative technologies, like RFID, do not have perfect answers to securing efficiency, effectiveness, convenience, and transparency. Rather, RFID technology itself creates unexpected problems. It should be noted that democratic governance and trust is still important to technological innovation and policy issues arising from a rapid RFID diffusion.
Our systematic review is incomplete to discuss all of the RFID issues from technology, market and management, e-government, and legal aspects. Further research on RFID diffusion and impact include not only various theoretical issues of but also legal and managerial problems. For instance, both qualitative and quantitative research is required to explore what factors are critical to adopt and implement new RFID technology in terms of governance and digital literacy. Both micro and macro approaches with massive data are also required to identify how RFID improve not only organizational performance in government agencies and various industry sectors but also quality of our life.
Declarations
Acknowledgments
This paper was supported by the research grant of Seoul National University Foundation (Korea Institute of Public Affairs) in 2015.
Open AccessThis article is distributed under the terms of the Creative Commons Attribution 4.0 International License (http://creativecommons.org/licenses/by/4.0/), which permits unrestricted use, distribution, and reproduction in any medium, provided you give appropriate credit to the original author(s) and the source, provide a link to the Creative Commons license, and indicate if changes were made.
Authors' Affiliations
(1)
Korea Institute of Public Affairs, Graduate School of Public Administration of Seoul National University, Seoul, Republic of Korea
(2)
Graduate School of Public Administration of Seoul National University, Seoul, Republic of Korea