Platform business Eco-model evolution: case study on KakaoTalk in Korea
Journal of Open Innovation: Technology, Market, and Complexity
Technology, Market, and Complexity
2015
1:6
Received: 1 June 2015
Accepted: 31 July 2015
Published: 8 September 2015
Abstract
Platform business is often regarded as notable examples of successful businesses model in the mobile industry. The purpose of this study is to find the determinants of successful platform business, through the case study of KakaoTalk, a representative fast growing social platform in Korea. This study also discusses how to create a value proposition and how organizations using the platform can cooperate.
The case analysis indicates that a preparation, spread, evolution (PSE) curve is a successful platform business evolution. The PSE curve is composed of three phases: a preparation phase that establishes the platform and sets the target group, a spread phase where the firm provides killer content, such as KakaoGame, a low pricing strategy, and reinforcement of the platform rules in the early stages of the platform; and an evolution phase where the platform continues to evolve. This study proposes a platform evolution pattern that involves the PSE curve in order to form successful platform. This study contributes to the innovation for social platform businesses.
Keywords
KakaoTalkBusiness modelBusiness model innovationPlatformKorea
Background
Over the last ten years, unprecedented growth in social network services (e.g., Facebook) has greatly increased the use of platform business models. In addition, the increase in smartphone penetration has led to a battle among platforms. The mobile revolution was triggered by the introduction of Apple's iPhone, and since then, the business environment around such platforms has brought about increased competition. The emergence of new information and communication technologies (ICT) and of the Internet have opened new opportunities to design open market business models by enabling companies to fundamentally change how they organize and engage in economic exchanges both within and across companies as well as through industry boundaries (Zott and Amit, 2007). In Korea, the mobile Internet environment has flourished in the last ten years, and as a result, social platform enterprises and app stores are growing rapidly. KakaoTalk is the provider of a mobile messaging application and mobile social platform in Korea. Since KakaoTalk, launched in 2010 as Mobile Instant messenger (MIM), it has strongest position in the mobile industry, expanding its service beyond messaging to a social platform encompassing games, digital contents, marketing e-commerce and more. It has become key stone for the mobile industry growth in Korea by providing mobile platform ecosystem. KakaoTalk was chosen the No 1 free Short Messaging Service (SMS) App by CNET, an American media website that publishes reviews, news, articles, blogs, podcasts and videos on technology and consumer electronics globally in 2011. KakaoTalk, leading in the mobile industry, and became an inseparable part of the lives of Korean users. Most smartphones users, regardless of gender and age, use KakaoTalk.
We pose research questions on how KakaoTalk could achieve huge success in Korea unlike other social platform enterprises. Based on research back ground, the purpose of this paper is to find determinants of KaKaoTalk's huge success, and describe the platform business model. By analyzing KaKaoTalk's business model, we find that PSE (Preparation, Spread, Evolution) curve, composed of three phases: the preparation phase that establishes the platform to set the target group; the spread phases where killer content is provided in the early stages of the platform, such as KakaoGame, a low pricing strategy, and reinforcement of the platform rules; and the evolution phase where the platform continues to evolve. KakaoTalk has vitalized the mobile game industry by collaborating with game developers to provide Kakao Game, while launching Plus Friend, a powerful mobile marketing channel for enterprises and content providers. In addition, KakaoTalk's Gift Shop, which allows users to send gifts like Starbucks coffee or fine jewelry to their KakaoTalk friends, has created a new window of opportunity in the mobile commerce market.
This paper is organized as follows. Section 2 presents the research methodology as well as reviews of the literature on business model. Section 3 describes the specific case involving KakaoTalk's platform business, and the findings are used suggest the determinants for success in order to derive the platform business as an ecosystem model. In the final section, we shed light on the evolution of platform business model in mobile industry.
Literature review and research methodology
Business model
KakaoTalk providers a free software application for mobile devices that allows customers to send and receive messages and voice calls for free. Users can not only send texts, photos, videos, and contact information, but can also enjoy voice calls, all on a one-to-one basis or in groups. Before the finding of what KaKaoTalk's business model is, we review the business model.
Recently, some scholars have devoted a growing amount of attention to business model innovation (Teece, 2010; Najmaei, 2013). A business model articulates the logic and provides data and other evidence that demonstrates how a business creates and delivers value to customers (Teece, 2010). In short, a business model could be defined as the manner in which an enterprise creates and delivers value to customers, and then converts the payments that are received into profit (Björkdahl, 2009; Chesbrough, 2007; Zott and Amit 2010; Zott et al., 2011). No consensus exists yet regarding the definition, structure, and evolution of a business model. The manner in which firms create and capture value is a popular research topic. Each firm has its own business model, but no generally-accepted definition of the term 'business model' has yet emerged. Prior studies regarding business models fail to reach a consensus to define their components. The interest in business models is relatively recent, and Boudreau (2010) noted that early work to identify business models focused on capturing the revenue stream of web-based firms. No matter the sector, there are criteria that enable one to determine whether or not one has designed a good business model. Business models yield value propositions that are compelling to customers, achieve advantages in terms of the cost risk structures, and enable significant value to be captured by the business.
At the most rudimentary level, business models are defined in terms of a firm's economic model (Morris et al., 2005). The business model concerns the logic of how profit is generated by the firm. Steward and Zhao (2000) assert that the business model is a statement of how a firm will both make money and sustain its profit stream over time. Furthermore, the business model can be defined as an architectural configuration of the firm's survival. Slywotsky (1996) noted that a business model consists of the totality of how a company selects its customers, defines and differentiates its offerings, defines the task it will perform itself and those it will outsource, configures its resources, goes to market, creates utility for customers, and captures profits. A business model is related to a number of other managerial concepts, and it captures the key components of a business plan. The business model components consist of price, product, distribution, organizational characteristics, and market strategy (Horowitz, 1996; Timmers, 1998; Dubosson-Torbay et al., 2001; Hamel, 2001). What do we know about a business model? Prior studies are referenced in this study to define the business model of a company as a simplified representation of its business logic. Namely, a novel business model is crucial to maximize profits. It is called multi side platform business model like KaKaoTalk. Multi-side platform is widely known for customers, and plays a role to link or broke between the interdependent groups, based on web and smartphones. AirBnB is the firm, operating to link between groups that want to find houses and groups that want to lend a house. Thus, the both supply side and demand side is the key composing the market. Amazon, Facebook, E-bay, twitter, Google and apple is the successful firms by using the multi-side Platform business model.
Conceptualization of platform
The role of a platform is to mediate between various stakeholder constituencies by coordinating interactions between two or more members from distinct groups of stakeholders (Evans, 2003; Rochet and Tirole, 2003; Jullien, 2005; Cortade, 2006).
Jacobides et al. (2006) emphasized that a platform creates value and is an important structure of the industry architecture in the ICT sector. Also, a platform in the ICT sector can be referred to as a hardware configuration, an operating system, a software framework or any other common entity shared by users (Ballon et al., 2008; Bresnahan, 1999). Gawer and Henderson (2007) state that we can conceptualize a platform as a technological system where a product or service is one component that is functionally interdependent with other components. Thus, a platform provides a number of benefits to its users. As a result, user demand is for the overall system, and hence, there is no demand for individual components when they are isolated from the overall system (Gawer and Henderson, 2007).
A platform-mediated network is a composite set of users whose transactions are subject to direct and/or indirect network effects, along with one or more intermediaries that facilitate users' transactions (Rochet and Tirole, 2003; Evans and Schmalensee, 2007). From the literature, we can induce that a platform is the set of components and rules that are commonly employed when users conduct transactions. Such components include hardware, software, and service modules, along with an architecture that specifies how they fit together.
In such a market, the value obtained by one customer group increases as the number of users from the other customer group increases (Evans, 2003). This phenomenon is described as a network externality, for which consumption by one side of the market does not depend on the same group, but on the opposite side of the market (Roson, 2005). A buyer takes into account the number of potential sellers on the platform when making a purchase. Evans (2003) pointed out that an intermediary is necessary to internalize the externalities created by one group for the other group. In economics, this kind of behavior between two markets is regarded as an indirect network effect of two-sided markets.
A successful platform coordinates the interaction between individuals belonging to various stakeholder groups, and it is also able to internalize the externalities created by one group for the other group. A platform business model, thus, needs to get various stakeholder groups on board and needs to balance the interests of these groups by focusing on balancing the openness and lock-in of customers rather than on profit maximization in a single market (Cortade, 2006; Ballon et al., 2008). Technology platforms are two-sided or multi-sided markets that bring together various types of participants (Rochet and Tirole, 2003). Unless a business serves two or more distinct types of customers who depend on each other in some form, it is not platform. When various types of customers interact with each other, then it is called a platform. Prior to reviewing platforms in greater detail, we can conceptualize the function of a platform as follows: a platform is 'open' to the extent that no restrictions are placed on participation during its development and/or utilization.
Platform-mediated networks are comprised of entities that play several distinct roles, including demand-side platform users, commonly referred to as 'end users.' Supply-side platform users offer complementary participation and are employed by demand-side users by using the core features of the platform. The platform provider serves as a user's primary point of contact on the platform. Platform sponsors exercise property rights and are responsible to determine who may participate in a platform-mediated network and who may develop its technology. For a given platform, each of these roles may either be open or closed. Consequently, a platform can be characterized by its openness. Eisenmanne et al. (
2008
) related a platform to a business model. Eisenmann et al. (
2008
) considered a platform business to be a platform-mediated network. Figure
1
shows that a platform-mediated network is composed of demand-side users, supply-side users, platform providers, and platform sponsors.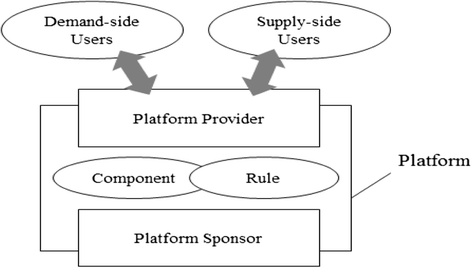 The transactions between the demand-side users and the supply-side users, which are likely a result of the network effect, are facilitated by the intermediary's role in providing the platform and recruiting platform sponsors.
Methods
The goal of this study is to find successful the social platforms by analyzing KakaoTalk as a representative example as well as to propose the evolution of the platform business model. KakaoTalk has created the dominant platform business market in Korea, and it has tremendous influence on entrepreneurs within the app ecosystem. Fieldwork and field interviews were carried out to obtain raw data. When the targets were selected for the intensive interviews, a purposive sampling question was adopted in order to identify interviewees, including their individual characteristics. This method is particularly effective and appropriate for this type of qualitative research (Punch 1998). Before contacting the individuals in person, it was necessary to scrutinize the details of data released by secondary sources, such as turnover, brief history, and CEO's creed and former achievements. In particular, the information released by newspaper was thoroughly examined before having an interview and academic journals and periodicals were also analyzed.
Due to firm policy, which has a strong emphasis on internal security, it takes time to meet experts related to business model development, including the CIO of KakaoTalk, by proving that the purpose for such contact involves academic research aims. In order to effectively implement the case analysis, the data was collected from KakaoTalk's intranet information, various data released in newspapers, in-person interviews with developers, and several in-depth discussions with relevant parties. To further improve the quality of the research quality, interviews with App developers and KakaoTalk users were also carried out over a period of 5 months. To gain further insight into the academic process for formulating and analyzing business models, the author used a standard interview format with the CIOs or founders of such companies. Most of the interviews were recorded with the consent of the interviewees, including those interviews conducted over the phone.
Discussion and conclusions
KakaoTalk can be able to grow rapidly as a result of the quick use of unique platform strategies. This study performed a case analysis of KakaoTalk to find the determinants of successful social platforms as well as to determine how to create a value proposition and how organizations in the platform can cooperate. The goal of the research is to suggest a platform business model that is useful for building eco-systems. In order to fulfill these research aims, this study utilized direct data related to KakaoTalk as well as discussions and interviews with the CIO at KakaoTalk and other stakeholders.
These findings reveal that in the first stage, KakaoTalk created a mobile instant messenger within a new domain. In the second stage, existing mobile users who were searching for new means of communication were obtained. In the third stage, KakaoTalk grew rapidly by providing a free service and further expanded its business to the marketing and social domains. In the fourth stage, KakaoTalk decided to continue to offer free text transmissions as a killer service, and the company expanded its range of services to games, fashion, business marketing, digital contents, etc. by bundling services. In the fifth stage, KakaoTalk redefined its business not only as a simple mobile messaging service but also as a distribution platform and began to provide a wider variety of content. In the sixth stage, KakaoTalk underwent three evolutionary stages including an early stage as an SNS Service, growth stage as an SNS company, and evolutionary stage as a social media platform. In the seventh stage, KakaoTalk actively engaged in open innovation.
KakaoTalk is the mobile instant messenger that the vast majority of Korean smartphone users constantly use, and Kakao developed this app as its core platform and has provided a variety of follow-up platforms, such as mobile commerce, mobile advertisement, mobile games, etc. Continuous user interaction is necessary for the company to continue to be successful as a platform business. In other words, an open innovation strategy is also required to ensure business model evolution.
Finally, the findings of the case analysis suggest that the PSE curve is a unique pattern of the success of a social platform business model. The PSE curve is comprised of three faces: a preparation face that establishes a platform to set the target group; a spread face where killer contents are provided in the early stage of the platform, such as KakaoGame, a low pricing strategy, and reinforcement of the platform rules; and an evolution face where the platform continues to evolve. In addition, we have created a business model for a platform provider to build an eco-system by using the PSE curve to achieve success. In this paper, we find the successful path of platform business model, and suggest the eco-model evolution. What KaKao can evolve from simple mobile message to SNS platform in the first in the world is to find new value for customers using killer contents instead of seeking a business. Through this study, we find PSE (preparation, spread, evolution) curve.
The results of this study are subject to some limitations, but they also offer significant findings in that they provide the basics of an academic analysis of the factors that lead to the success of a platform. Further study is planned to address the merger of mobile messengers and this research can contribute to the mobile platform strategies in the future.
Declarations
Open Access This article is distributed under the terms of the Creative Commons Attribution 4.0 International License (http://creativecommons.org/licenses/by/4.0/), which permits unrestricted use, distribution, and reproduction in any medium, provided you give appropriate credit to the original author(s) and the source, provide a link to the Creative Commons license, and indicate if changes were made.
Authors' Affiliations
(1)
Graduate School of Business, Chonnam National University, Gwang Ju City, South Korea
(2)
A Staff in Chonnam National University, Gwang Ju City, South Korea