Innovation systems research: an agenda for developing countries
Journal of Open Innovation: Technology, Market, and Complexity
Technology, Market, and Complexity
2017
3:25
Received: 17 May 2017
Accepted: 6 November 2017
Published: 21 November 2017
Abstract
The continued relevance of the systems approach to the study of innovation, especially in developed countries, has been the subject of recent discourses. This paper argues that with respect to developing countries, discussions on innovation systems are yet to be exhausted. Against this background, the paper takes an objective look at the innovation systems approach and suggests an agenda for studying innovation systems in developing countries. The position of the paper is that modifications to the innovation systems approach present viable opportunities for understanding the innovation process in the developing world. Some concrete modifications, and their implications for future research, are proposed.
Keywords
Innovation systemDeveloping countriesResearch agendaNetworksCollective action
Background
"If I look back to the first mention of innovation systems in the literature and then just plot using Google Scholar, the number of articles that use innovation systems in the title, what you can see is, friends, this is a declining industry. We had a point where it diffused, it took off, there was a rapid ascension as it gained acceptance but now it's no longer a promising line of research." (Maryann Feldman, 2013).1
"Our goal is to convince you that it's [the innovation systems approach] not only promising but it remains exciting and useful. I believe innovators are embedded within and shaped by socio-political systems that grew through history and that there's still a lot of value to be gained by going in that direction." (Martin Kenney, 2013).2
This paper takes an objective look at the systems approach to the study of innovation and proposes an agenda for understanding the innovation processes in developing countries. Since Christopher Freeman first used the expression 'National System of Innovation' (NIS) in his 1982 OECD report—later published as Freeman (2004)—the systemic view of innovation has gained prominence in the literature. This point is aptly illustrated in Fig.
1
.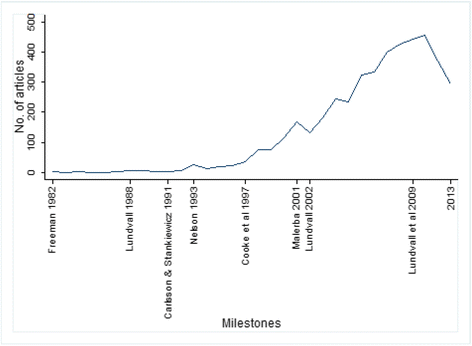 The figure reports the result of an experiment similar to the one referenced by Maryann Feldman in the first of the opening quotes. We take a count of all Google Scholar articles published between 1982 and 2013 with innovation system in their title, and identify some seminal contributions along the timeline. The upward slope of the curve suggests that from a modest beginning, the innovation systems approach eventually diffused widely and rapidly, an evidence of its research appeal. In fact, within the decade between 1991 and 2001, there was a take-off in the diffusion, driven by the emergence of several other concepts in addition to the original NIS concept. Each of the additional concepts focuses on a different level of analysis, including the technological (Carlsson and Stankiewicz, 1991), the regional (Cooke et al., 1997) and the sectoral (Malerba, 2002).
Nevertheless, the line in Fig.
1
is essentially an S-shaped diffusion curve with its peak around 2009―when the Handbook of Innovation Systems and Developing Countries (Lundvall et al.,
2009
) was released―followed by a sharp decline. This, as argued by Maryann Feldman in the first of the opening quotes, signals the end of what was once a breakthrough idea. In addition, we examine the number of published articles on innovation systems on
ScienceDirect,
3
between 2013 and 2017, what we see is that scholars are yet increasingly interested in the systems approach to innovation (Table
1
). As clearly illustrated in the opening quotes, the continued relevance of the systems approach is the subject of an ongoing discussion.
Table 1
ScienceDirect Search Output
| Year | Number of articles |
| --- | --- |
| 2013 | 16,476 |
| 2014 | 19,103 |
| 2015 | 22,915 |
| 2016 | 22,749 |
| 2017 | 24,906 |
As scholars wonder if the innovation systems approach has anything left to offer, particularly in the developed country context, we propose that modifications to the approach will reveal its usefulness in promoting and understanding innovation that solves societal challenges and improves welfare especially in less developed parts of the world.
In light of the above, the important question that arises is: Are there modifications that can be made to the innovation systems approach to ensure its continued relevance particularly in developing countries where the innovation process is still poorly understood? In other words, are there aspects of the innovation systems approach that are yet to be explored? Some recent studies have already gone ahead in addressing this question. This stream of research draws attention to limitations of the innovation systems approach, recommending caution and certain modifications in its continued application in a globalised world (see, for instance, Iizuka, 2013) and in developing countries (see, for instance, Sutz et al., 2013; Sutz and Cozzens, 2014). The present paper contributes to this growing stream of research.
Building upon recent scholarly work, this study identifies some gaps in the current innovation systems literature particularly concerning developing countries. Based on that, we suggest a number of conceptual and empirical issues for future research. Our entire discussion is cognizant of the specificities of the learning and capability accumulation processes in developing countries. In most of these countries, institutions are weak and systemic interactions are largely absent or, when present, rather weak. Even in the wake of the concept of open innovation, which emphasizes a more participatory and more distributed approach to innovation (Chesbrough, 2011), industry-academia research collaborations in developing countries are still weak. Although, firms in developing countries stand to benefit immensely from practicing open innovation, Sag et al. (2016) suggests that little is known about open innovation in developing countries. In addition, the innovation process in developing countries faces huge constraints and its outputs are far away from the global frontier (Hadjimanolis, 2000; Niosi, 2010; Oyelaran-Oyeyinka, 2006). Keeping these in mind, we hope that the issues raised in this paper will spur a wave of rigorous history-rich and context-friendly studies that will demonstrate the continued relevance of the systems approach to the study of innovation.
In the next section, we present the definition of innovation system adopted in this paper. The usefulness of the definition is illustrated with a brief comparison of the different innovation systems concepts as well as of developed and developing country systems. This is followed with a discussion of issues for future research. As part of the proposed research agenda, we highlight the fact that most analyses of innovation systems pay attention to the relatively well-known and formalised actors at the aggregate level. Consequently, not only is the informal sector underrepresented, the high levels of aggregation blurs the theoretical views and blunts the precision of empirical propositions based on existing studies. We also draw attention to a crucial omission in the innovation systems literature—the role of private institutions and collective action (networks) in overcoming innovation constraints. The final section contains some concluding thoughts.
Innovation systems – An operational definition
Much attention has been paid in previous literature to some of the historical features as well as evolutionary trajectory of the systems framework.
4
Therefore, the emphasis in this paper is on how the existing limitations of the innovation systems approach offer opportunities for future research. Before turning to that discussion in the next section, we first outline here the view of an innovation system that we adopt in this paper. In general, an innovation system is a focusing device―some sort of analytical tool―which enables the analyses and understanding of the innovation process (taking into account learning and interaction among economic agents) with the aim of finding out which institutional configurations best support strong dynamic economic performance (Lundvall et al.,
2009
). This definition is attractive for two important reasons. Firstly, it transcends constraints imposed by varying levels of analysis. In particular, whether a sectoral, regional or national perspective is adopted, the generic aim of any study of innovation systems would be to understand what works and what does not, in the interest of economic development. This largely explains why, when viewed closely, the various innovation systems concepts do not differ significantly except in their theoretical bases and units of analysis (Table
2
). Common to all the innovation system concepts is the centrality of knowledge as a vital resource for innovation and also the creation, diffusion and use of innovation. They all examine the various dimensions to the relationships among knowledge-generating and knowledge-utilising institutions within each system. Secondly, the above definition of an innovation system acknowledges an important feature of the mechanics of economic development and institutional contexts. Therefore, what already works somewhere may not work elsewhere. Ultimately, a veritable aim of innovation system research should be to find out the conditions under which innovation occurs, given a certain macroeconomic context. In this regard, developing countries are expected to differ significantly from developed countries. To illustrate this, we highlight in Table
3
some general characteristics of innovation systems in developed countries and contrast them with developing countries. The information in the table suggests that developing country systems are less creative, less capable and are weaker in terms of connectedness. Following from these fundamental differences, it becomes straightforward to identify some important gaps in the existing literature especially regarding developing countries.
Table 2
Comparing and contrasting the main innovation systems approaches
NIS

RIS

SIS

TIS

Foundational Contributions

Adam Smith (1776), Freeman (1987), Lundvall (1992),

Cooke et al. (1997)

Malerba (2002)

Carlsson and Stankiewicz 1991)

Theoretical Elements

National Production Systems, Home-market theory of International trade,

Innovation as an interactive process,

Role of institutions

Evolutionary economics

Economic geography/regional science

Institutional economics (at least in defining regions)

Heavy reliance on NIS

Evolutionary economics

Industrial organisation,

Industry life cycle,

Development blocks

Neo-Schumpeterian evolutionary economics, Institutional emphasis,

Competences

Geographical Focus

National boundaries

Sub- national regions(originally); now shifting to supranational

Focus on Sectors

Focus on networks of agents involved in technology dynamics

Main Actors

Knowledge creating agents such as universities, political institutions, Industry

Industrial Clusters,

knowledge institutions

Firms, knowledge institutions

Firms

Known Issues

Applicability of the NIS approach in developing countries;

Mapping NIS and measuring knowledge flows among academia, state and industry.

The definition of what constitutes a regional system of innovation

Sectoral variances in innovation within and across national boundaries

The dependence of the TIS on the rate of technological change;

high uncertainty,

weak or absent institutions;

lack of specific actors
Table 3
Comparing innovation systems in developed and developing countries
| Dimension | Developed context | Developing Context |
| --- | --- | --- |
| Learning and interactions among economic agents | Active, strong, dense | Passive, weak and fragmented |
| S&T capabilities | Boundless, Ease in technology absorption, High levels of scientific training | Limited, Difficulty in technology absorption, Low levels of scientific training |
| Main knowledge sources | Localized | Foreign |
| Nature of innovative output | Formal and active, Leaders, Radical and Creative, High investments | Mostly informal and passive, Followers, Incremental and Imitative, Low investments |
| Industrial and innovation policy | Strong intellectual property laws | Weak intellectual property laws |
| Economic and business environment | Structured markets, high purchasing power giving rise to strong domestic demand for new high-tech products | Large but unstructured markets, low purchasing power giving rise to weak domestic demand for technological innovation |
Research agenda
Following the distinction between developed and developing country systems just discussed, the study next highlights some key areas in which the extant systems research appears to be deficient. Admittedly, this is not an exhaustive discussion. Rather, it focuses on specific aspects that are influential in how innovation is perceived and analysed. In addition, the identified research areas sufficiently portray points at which innovation in developing countries diverges from what obtains in the developed world.
From systems to networks and collective action
Collective action bears close semblance to swarm intelligence in the field of AI and robotics. Swarm intelligence allows individuals in a system of robots to collectively build useful structures that are far more complex than any one of them could possibly build. This is possible because each individual is procedurally rational, that is, it has just enough information to take the next step without necessarily knowing what the others are doing or what the final outcome of their combined efforts will be. The individual's step may involve spotting and correcting previous errors or taking the next step in the evolution of solution to the task at hand. Given that information is limited, and as it were, each individual does not have a map, that is, they lack sufficient information to determine the project goal, how do interacting elements in the context of swarm intelligence build useful and purposeful structures? There are two reasons: information disclosure and adaptive learning. First, no individual takes a secret action. Though their thought processes are known only to themselves, their actions and the outcomes of those actions are fully observable. This information is taken as input by other elements, as well as those elements that come along on the same trajectory. These subsequent elements apply this input in taking a decision on what their next step should be: to move forward or step back to correct something. That is adaptive learning.
It is important to emphasize the role of private (individual) capabilities in this setting. The heterogenous learning capacity is crucial because even if the innovation problem is framed as a commons scenario, the performance differences that actors will exhibit in the medium- or long-run will be a direct function of their capabilities. Access to information (via commons) is one thing, exploiting and transforming this into knowledge is something else entirely.
Besides, the industry life cycle plays a role in the entire scheme of things. For instance, in the specific case of industry associations, at some point they transform from archetypal commons setup to some sort of club wherein exclusion criteria are applicable. How rapidly and when, if ever, this transformation will occur depends on industry trajectory and lifecycle. Closely related to the foregoing is the relevance of the macroeconomic environment. It can be argued that the innovation commons may be more intense where there are missing links in the macroeconomic environment. For instance, in the face of state failure, private actors might reciprocally see a common solution as the most efficient way of solving their innovation problems. Where there are no such macro challenges, perhaps it is more difficult to frame the innovation problem as a commons issue. This is indeed the basis for many industry associations in developing countries.
The Nigerian cable and wire manufacturing sector is an illustrative case. In a series of case studies described in detail elsewhere, it was found that some of the firms have made a private arrangement, effectively forming an industry association, which functions in a manner similar to what Robert Allen described as collective invention. This industry association has, in time, evolved into a sort of club in the sense that the facilities of any new manufacturer is inspected and certified by the association. When a plant fails this test, it is not admitted into the industry association (though the association lends technical support so failure is rare). Firms in the association freely share information through regular meetings of the CEOs and the Product Managers. The CEOs discuss management problems while the PMs discuss technical problems, to the point of exchanging product samples for peer laboratory testing. The feedback from this process, as Egbetokun et al. (2012) found out, is a key enhancer of the innovative capability of the member firms. Today, the product is the only domestic manufacture which is perceived by Nigerians to be superior to imports. The emergence of this group was necessitated by the fact that the manufacturers faced common problems: poor infrastructure - especially electricity, a weak domestic knowledge base and competition from cheap imports.
Each actor being only procedurally rational uses available information to take the best possible decision. Since information accumulates because of full disclosure, then the quality of the adaptive decisions improve over time. There are two challenges: full information disclosure might mean inefficiency since there could be a lot of redundancy (arising from information overload) and errors (arising from cumulativeness). It will take a lot of time before agents observe and learn to overcome the problem of inefficiency. But once they do, they tend to limit information sharing. But how do they determine the socially optimal level of sharing? This is hard to determine and as such the system may evolve in the direction of persistent information overload or information deficit wherein there is too little information to permit cumulative progress. Either way, unless there is some coordination and regulation, the system is likely to evolve to become sub-optimally efficient. Herein lays the importance of strong institutions.
Conclusion
The implication clearly pointed out in this study is that scholars of the innovation systems approach are yet to explore all dimensions of this field, especially as it relates to developing countries. We thus posit, that the innovation systems approach remains a fruitful line of research. The study identified issues working against systems analysis and explored research agenda that would possibly make the systems analysis a promising line of research. The inclusion of non-technological innovation in the definition of innovation, especially in the context of developing countries which have viable service sectors driving their economies, would make the systems approach to innovation worthwhile in the near future. Also, the study dichotomizes competence from capability in empirical literature; most studies have used the two terms interchangeably leaving leading readers to draw erroneous inferences. Another new knowledge advanced in the paper is the importance of informal interactions in the innovation system. Previous studies have narrowly focused on formal interaction as the only possible form of interaction within the innovation system. The study further argued that the informal sector ought to be included as a major actor in the innovation system owing to the strategic role it plays in employment, production of goods and services, and their immense contribution to economic activity in developing countries. Another, pitfall in the innovation system approach addressed in the study is the aggregation of actors and stakeholders. Actors within each element play different roles; therefore interaction among broad range of actors across element smears the defined analysis of the innovation systems theory. In addition, the role of private institutions and collective action in overcoming innovation barrier is yet to be suitably explored in literature and is conspicuously missing in the innovation system approach. Scholars who wish to embark on future research in innovation systems, simply have to examine these peculiarities of innovation systems in developing countries as laid out in this paper, to uncover exciting and useful truths about the systems approach. These issues might well help to understand the challenges facing developing countries in 'catching up' with the developed world. The study concluded by proposing that for innovation systems theory to remain relevant in the near future there has to be a shift from systems to networks, i.e. network of actors within same element and across elements.
Footnotes
1
35th DRUID Celebration Conference Debate on the motion 'Let it be resolved that this conference believes that the systems of innovation approach is no longer a promising line of research', held on 19th June, 2013, Barcelona, Spain. Videos available at https://vimeo.com/155650827
4
To give some representative examples: Carlsson et al. (2002) the basic elements as well as the analytical and methodological issues arising from various system concepts. In his introduction to the special issue of Industrial and Corporate Change on Building Innovation Systems, Niosi (2011) provides an overview of the history and components of innovation systems. Edquist (1997) discusses the emergence and characteristics of the various systems approaches. The first chapter of Lundvall et al. (2009) considers innovation systems in relation to economic growth and development. That chapter, drawing on Niosi (2002) and Cooper (1992), among others, also provides an excellent discussion of how innovation systems should be viewed in the context of development. In the Oxford Handbook of Innovation (Fagerberg et al., 2005), three chapters (7, 11 and 14 respectively) provide detailed discussions on the history and evolution of national, regional and sectoral innovation systems. Lundvall (2010) offers a comprehensive discussion on the history and potential future evolutionary direction of innovation systems research.
5
How important a role technology diffusion plays in latecomer contexts is open to debate. On the one hand, there is the notion that a large proportion of innovative changes in latecomer economies derive from the adoption, diffusion and adaptation of imported technologies (BellandPavitt, 1993). On the other hand, it has recently been argued that technology adoption and diffusion may play a more limited role in driving innovation and growth in African manufacturing that is currently believed (Fafchamps and Söderbom, 2013)
6
The informal sector comprises 48%, 51%, 65% and 72% of non-agricultural employment in North Africa, Latin America, Asia and Sub-Saharan Africa, respectively (ILO 2002). Micro Small and Medium Enterprises, account for over 60% of GDP and over 70% of total employment in low income countries, while they contribute about 70% of GDP and 95% of total employment in middle income countries (NBS, 2010)
Declarations
Acknowledgements
None.
Availability of data and materials
Not applicable.
Authors' contributions
Conception and design of study (AAE). Drafting of the manuscript (AAE, AJO, BFA, OOJ). Revising manuscript critically for intellectual content (AAE). Approval of final version of manuscript (AAE, AJO, BFA, OOJ).
Ethics approval and consent to participate
Not applicable.
Consent for publication
Not applicable.
Competing interests
The authors declare that they have no competing interests.
Publisher's Note
Springer Nature remains neutral with regard to jurisdictional claims in published maps and institutional affiliations.
Open AccessThis article is distributed under the terms of the Creative Commons Attribution 4.0 International License (http://creativecommons.org/licenses/by/4.0/), which permits unrestricted use, distribution, and reproduction in any medium, provided you give appropriate credit to the original author(s) and the source, provide a link to the Creative Commons license, and indicate if changes were made.
Authors' Affiliations
(1)
National Centre for Technology Management, Ile-Ife, Nigeria
(2)
African Institute for Science Policy and Innovation, Obafemi Awolowo University, Ile-Ife, Nigeria