Smartness that matters: towards a comprehensive and human-centred characterisation of smart cities
Journal of Open Innovation: Technology, Market, and Complexity
Technology, Market, and Complexity
2016
2:8
Received: 6 April 2016
Accepted: 27 May 2016
Published: 23 June 2016
The Erratum to this article has been published in Journal of Open Innovation: Technology, Market, and Complexity 2016 2:9
Abstract
The term 'smart cities' is a widely used, but at the same time a highly fuzzy concept. The fuzziness hinders our understanding on the benefits of its adoption, and explains the existence of many relevant activities with fragmented or distorted views of what a truly smart city is. The aim of this paper is to undertake a comprehensive review of how smart cities are perceived in the literature and in the light of the findings propose a clearer definition. Overview of the key terms, concepts and definitions associated to smart cities, reported in this paper, demonstrates that the definitions found in the academic literature have limited scope, and are overly focused on strategic drivers and specific actions, instead of making explicitly the connection between the concept of smart cities and the creation of environments that promote happiness and wellbeing of their residents—which should be the main function of a city. Following the thorough review on the smart cities literature, the paper proposes a comprehensive, human-centred, and context-free definition for smart cities. This definition brings an endogenous view on smart cities in which the central element is the direct participation of local actors and stakeholders in the process of thinking, defining, planning, and executing social, technological and urban transformations in cities.
Keywords
Smart citiesSmart communitiesSmart urban technologiesInnovationHuman-centred citiesUrban planning and development
Introduction
Over the past decade smart urban technologies have begun to blanket our cities, forming the backbone of a large intelligent infrastructure. Along with this development, dissemination of the sustainability ideology has had a significant imprint on the planning and development of our cities (Yigitcanlar 2016). Consequently, the concept of smart cities, evolved from intelligent cities (see Komninos 2008), has become a popular topic particularly for scholars, urban planners, urban administrations, urban development and real-estate companies, and corporate technology firms. There are numerous perspectives on what a smart city is. These are ranging from purely ecological (Lim and Liu 2010) to technological (Townsend 2013), and from economic (Kourtit et al. 2012) to organisational (Hollands 2015) and societal (Deakin and Al Waer 2011; 2012) views. Moreover, as for Kitchin (2015), smart city symbolises a new kind of technology-led urban utopia. Utopia or not, in all these perspectives the vision of technology and innovation is a common ground to shape our cities into a form that we want to leave to our descendants. In this paper, the smart cities concept is viewed as a vision, manifesto or provocation—encompassing all techno-economic, techno-societal, techno-spatial, and techno-organisational domains—aiming to constitute the ideal 21st century city form. Presently, there is no fully-fledge smart cities exist. Stated by Glasmeier and Christopherson (2015, p. 4), "[t]he global smart city market will be valued at $1.6 trillion in 2020. Over 26 global cities are expected to be smart cities in 2025, with more than 50 % of these smart cities from Europe and North America". At the moment with the building of these cities underway in a number of places around the world, smart city examples abound in both the popular media and in academic discussions. This provides us the ability to systematically re-evaluate the definition of smart cities.
Approaches and definitions of smart cities
Smart cities foundations
Literature review in general and the analysis of the particular works of Nam and Pardo (
2011
) and Neirotti et al. (
2014
) suggest the existence of four key foundations or macro application domains for the approaches of smart cities (including variations of terms), listed below and also illustrated in Fig.
1
: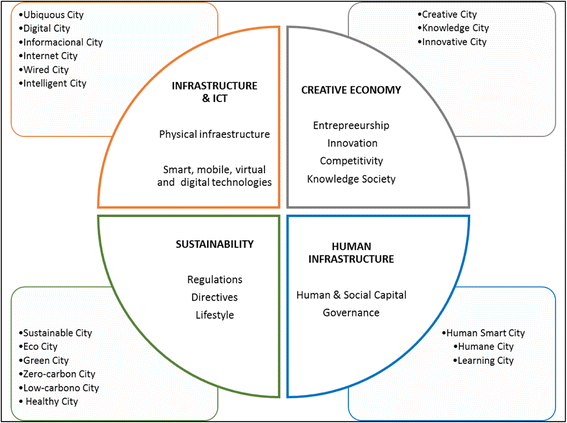 Adjusting the focus
The choice of the term and the text that defines smart cities reflect the emphasis that each author gives to a certain domain, or to the set of strategies they suggest as the best way to build this kind of cities. Table
1
shows a compilation of key domains, terms and the definitions of city brands relate to smart cities. On the one hand, one could say that these terms represent fragmented proposals of the smart cities approach (e.g., Abdoullaev
2011
). On the other hand, they ensure cohesion among academicians and practitioners, since they are based on a minimally shared vision between academic work and practical initiatives that adopt them, unlike the 'mishmash' of smart cities definitions (Fernandez-Maldonado and Romein
2010
; Nam and Pardo
2011
; Neirotti et al.
2014
).
Table 1
Domains, terms and definitions of city brands relate to smart cities
Domains

Terms

Definitions

Infrastructure & ICTs

Ubiquitous city

An urban space where ubiquitous technologies are embedded into the physical objects and structures in order to make urban functions more efficient and consequently improve the quality of people's life (Lee 2009, p. 11).

Digital city

A digital city is a community digital space, which is used to facilitate and augment the activities and functions taking place within the physical space of the city (Komninos 2006, p. 15).

Smart community

A community in which government, business, and residents understand the potential of information technology, and make a conscious decision to use that technology to transform life and work in their region in significant and positive ways (Lindskog 2004, p. 13).

Informational city

The informational city consists of creative clusters and spaces for personal contacts to stimulate sharing of implicit information (Stock 2011, p. 963).

Creative economy & knowledge-based society

Intelligent city

Intelligent cities and regions are territories with high capacity for learning and innovation, which is built-in the creativity of their population, their institutions of knowledge creation, and their digital infrastructure for communication and knowledge management (Komninos 2006, p. 13).

Creative city

Broadly, creative cities is about how local urban spaces can be re-imagined, rejuvenated, and re-purposed within a competitive global framework (Tay 2004, p. 220).

Knowledge city

A knowledge city is a place where new knowledge is constantly being created. An entire social system is devoted to produce, share and apply knowledge, which in turn, can be leveraged and exploited by companies and organisations (Ergazakis, Metaxiotis, and Psarras 2004, p. 79).

Innovative city

Innovative city is an urban development pattern, in which we solve the city problem with creative solutions to achieve urban renaissance, and employ innovation as a driver of sustainable urban development. (Lu et al. 2011, p. 2)

Sustainability

Sustainable city

A sustainable city is one in which the community has agreed on a set of sustainability principles and has further agreed to pursue their attainment. These principles should provide the citizenry with a good quality of life, in a liveable city, with affordable education, healthcare, housing, and transportation (Munier 2007, p. 43).

Eco-city

An eco-city is an ecologically healthy city. It is a healthy human ecological process leading to sustainable development within the carrying capacity of local ecosystems through changes in the production mode, consumption behaviour and decision instruments based on ecological economics and systems engineering (Wang and Ye 2004, p. 341).

Zero-carbon city

A 'zero-carbon city' is a city that entirely runs on renewable energy and hence produces no carbon footprint (Yigitcanlar and Lee 2014, p. 101).

Human infrastructure

Human smart city

Application of citizen-centric and participatory approaches to the co-design, development, and production of smart cities services that balance the technical 'smartness' of sensors, meters, and infrastructures with softer features such as clarity of vision, citizen empowerment, social interaction in physical urban settings, and public-citizens partnership (Rizzo et al. 2013, p. 677).

Humane city

Places and environments where people enjoy everyday life and work have multiple opportunities to exploit their human potential and lead a creative life (Streitz 2011, p. 429).

Learning city

A learning city, town or region recognises and understands the key role of learning in the development of basic prosperity, social stability and personal fulfilment, and mobilises all its human, physical, and financial resources creatively and sensitively to develop the full human potential of all its citizens (Longworth 1999, p. 4).
Smart cities definitions
The focus group on smart and sustainable cities connected to the International Telecommunication Union (ITU), a United Nations specialised agency for ICTs, has gathered 100 separate definitions of smart cities gathered from scientific undertaken in private companies, governments, research institutions, industry associations and NGOs activities or articles, newspapers and magazines (ITU
2014
). Some of those definitions are listed in Table
2
. The most striking feature of this set of definitions is the operational focus, in particular the central role given to ICTs. Even when they minimise the importance of new technologies, most definitions are based on the prescription of strategic actions (Neirotti et al.
2014
) and usually make much more explicit
how
the proposal advocated by the authors should be executed than
why
to do it and, more importantly,
what
does it aim to generate in people's lives. In other words, they are centred in the means such as the intensive use of new technologies, more open governance processes, or more sustainable strategies for economic and social development. Despite some attempts to produce a definition with a more holistic and integrated view, such as Caragliu et al. (
2009
), most smart cities definitions vary from a perspective centred on one of the four domains previously mentioned. There is not a shared vision (Neirotti et al.
2014
), and there are no elements capable of giving significance—in the epistemological sense—to the term itself and the smart cities approach.
Table 2
Common definitions of smart cities
| Authors | Definitions |
| --- | --- |
| Bowerman et al. (2000) | A city that monitors and integrates conditions of all of its critical infrastructures including roads, bridges, tunnels, rails, subways, airports, sea-ports, communications, water, power, even major buildings, can better optimize its resources, plan its preventive maintenance activities, and monitor security aspects while maximising services to its citizens. |
| Giffinger et al. (2007) | A city well performing in a forward-looking way in [economy, people, governance, mobility, environment, and living] built on the smart combination of endowments and activities of self-decisive, independent and aware citizens. |
| Rios (2008) | A city that gives inspiration, shares culture, knowledge, and life, a city that motivates its inhabitants to create and flourish in their own lives. An admired city, a vessel to intelligence, but ultimately an incubator of empowered spaces. |
| Caragliu et al. (2009) | A city to be smart when investments in human and social capital and traditional (transport) and modern (ICT) communication infrastructure fuel sustainable economic growth and a high quality of life, with a wise management of natural resources, through participatory governance. |
| Eger (2009) | A particular idea of local community, one where city governments, enterprises and residents use ICTs to reinvent and reinforce the community's role in the new service economy, create jobs locally and improve the quality of community life. |
| González and Rossi (2011) | A public administration or authorities that delivers (or aims to) a set of new generation services and infrastructure, based on information and communication technologies |
| Nam and Pardo (2011) | A humane city that has multiple opportunities to exploit its human potential and lead a creative life. |
| Zhao (2011) | Improving the quality of life in a city, including ecological, cultural, political, institutional, social, and economic components without leaving a burden on future generations. |
| Lazaroiu (2012) | The smart city represents the future challenge, a city model where the technology is in service to the person and to his economic and social life quality improvement. |
| Schaffers et al. (2012) | Smart city is referred as the safe, secure environmentally green, and efficient urban centre of the future with advanced infrastructures such as sensors, electronics, and networks to stimulate sustainable economic growth and a high quality of life. |
| Piro et al. (2014) | A smart city is intended as an urban environment which, supported by pervasive ICT systems, is able to offer advanced and innovative services to citizens in order to improve the overall quality of their life. |
| Yigitcanlar (2016) | A smart city could be an ideal form to build the sustainable cities of the 21st century, in the case that a balanced and sustainable view on economic, societal, environmental and institutional development is realised. |
In search of significance: smartness for what?
Conclusions
The concept of smart cities is currently a hot topic (see Yigitcanlar 2016). However, intense technology use alone in an urban environment does not equip this locality with the functionality of smart cities. Thus, it would be useful to underline what Caragliu et al. (2011) highlight as the key characteristics of smart cities, that are: (i) The utilisation of networked infrastructure to improve economic and political efficiency and enable social, cultural and urban development; (ii) An underlying emphasis on business-led urban development; (iii) A strong focus on the aim of achieving the social inclusion of various urban residents in public services; (iv) A stress on the crucial role of high-tech and creative industries in long run urban growth; (v) Profound attention to the role of social and relational capital in urban development, and; (vi) Social and environmental sustainability as a major strategic component for smart cities. Considering these key characteristics and the popularity of this type of city brand, we highlight below a new definition of the concept, its possible practical implications, linkages between smart cities and communities, and future directions.
Declarations
Open AccessThis article is distributed under the terms of the Creative Commons Attribution 4.0 International License (http://creativecommons.org/licenses/by/4.0/), which permits unrestricted use, distribution, and reproduction in any medium, provided you give appropriate credit to the original author(s) and the source, provide a link to the Creative Commons license, and indicate if changes were made.
Authors' Affiliations
(1)
Knowledge Engineering and Management, Federal University of Santa Catarina, Florianópolis, Brazil
(2)
Civil Engineering and Built Environment, Queensland University of Technology (QUT), Brisbane, Australia