Green governance and green clusters: regional & national policies for the climate change challenge of Central & Eastern Europe
Journal of Open Innovation: Technology, Market, and Complexity
Technology, Market, and Complexity
2015
1:1
Received: 8 May 2015
Accepted: 31 May 2015
Published: 5 August 2015
Abstract
This paper focuses on the climate change challenge faced by Central & Eastern European countries both those inside the European Union and those outside it. They have enormous energy intensity and associated greenhouse gas (GHG) emissions, mainly from energy production, which is oil, and worse, coal-fired power stations. As a group of blocs, CEE is a significant actor on the global climate change canvas. Their actions can make a difference. But there are numerous regulatory constraints that make this currently difficult. With the onset of a new global regime consequent on the renegotiation of acceptable levels of GHG emissions at Bali in 2007, to be ratified in Copenhagen in 2009, all countries with levels such a those in CEE will have to reduce emissions significantly as will countries throughout the world, especially the 'big burners' like USA and China. With some data and textured case illustrations the article points the way to mitigation of emissions by learning from Denmark, the world leader as a 'green economy' and Wales, part of the UK which has a long established heavy industry tradition comparable to many CEE countries and where positive change is underway from unlikely sources.
JEL: A14; O33; R11; R58
Keywords
Green governanceGreen innovationGreen clustersRenewable energyWind turbinesSolar thermal energyBiofuels
Background
This contribution involves reflecting on the variety of governance and policy responses by cities to climate change. Climate change refers to the historically measurable increasing rate of atmospheric 'greenhouse gases', particularly carbon dioxide (CO2). While there is debate about the causes of climate change, there is consensus that human activity has made a contribution to it since the onset of industrialisation and especially in the very recent past (Bastianoni et al. 2004). The future contribution of cities to mitigating climate change will concentrate upon the four key content areas that research has shown to be main contributors to increased CO2 and other greenhouse gases, all of which are connected to urban governance. These are food consumption, passenger transport, energy use and municipal waste. Following one of the numerous Stockholm Environment Institute's reports (Stockholm Environment Institute 2005) consumption of food accounts for some 24 % of emissions making up a given territory's 'ecological footprint', passenger transport and energy use each contribute 18 % while municipal waste accounts for 26 %. The remainder is accounted for by such activities as housing, government and services.
How should cities begin the process of moderating these emissions? They must first know their emissions profile and identify which are badly out of line with acceptable norms. Ecological footprint assessments constitute a credible entry point to the formation by a city (or county) of a strategy to take actions that reduce emissions. In the case of food consumption, it can take direct action to utilise, and even grow, less energy intensive organic food and/or use localised food chains to supply canteens for which it may have sole responsibility (e.g. schools, care homes, administration) as well as animating similar approaches in other public (e.g. hospitals, higher education), private and domestic food consumption environments such as any local food and/or health alliance (Alliance 2004). Regarding passenger transport, city governance may involve using renewable fuels in public bus and delivery fleets, encouraging greater public transport use, using planning policy to limit sprawl and traffic while providing cycleways, green space and downtown housing accommodation. With respect to other energy utilisation, cities can change their purchased energy consumption to renewable sources and install biomass or other clean energy technologies where they generate their own. This connects to the area of municipal waste, which through adoption of waste recycling, can supply biomass for energy production. For energy waste itself, energy-saving initiatives can be taken directly on city-owned buildings, street-lighting, traffic lights, other heating and lighting and nurseries, also indirectly by encouraging energy saving among citizens.
Research must explore all these and more aspects of city governance in the context of climate change, seeking to explain why some are pioneers, early adopters and committed implementers of actions responsive to the widely-perceived need for reductions in greenhouse gases, and why some are latecomers or uncommitted to taking such actions directly or indirectly.
The relevance of supranational, national and sub-national regulation, such as the Rio, Kyoto framing and Montreal (Kunstler 2005) binding climate change protocols; the EU European Climate Change Programme and EU Emissions Trading Scheme; national energy and climate change strategies; and relevant sub-national initiatives should be taken into account. In the third section, this contribution will proceed with the elaboration of a matrix of the spectrum of city take-up qualities from city leadership to apparent city apathy on the x-axis, against governance relations on the y-axis (on mayors good and bad, see (Lever 2001)). The latter spectrum will include categories capturing political composition (hypothesising, for example, that Green political representation or sympathies exert leadership and commitment), officer influence (e.g. including multi-level governance and strategy expertise), transnational sustainability networks (e.g. EU Sustainable Cities Network), associative governance (active climate-change lobbying by civic societies), knowledgeable governance (e.g. interfaces between city policy and specialist research or advocacy institutions), business context (local presence of, for example, 'cleantech' business, influential and demanding 'green' corporate citizens ((Freeman et al. 1996; Gibbs et al. 2002), who associate local sustainability policy with 'good governance'). The discovery of combinations or multiple absences of such relational factors in association with leadership and measurable commitment will also be taken into account and efforts made to find other explanations for both non-relational commitment and relational apathy in relating performance to governance category. As Gibbs et al., (Gibbs et al. 2002) note, contrariwise, a 'pro-growth' city regime may exercise 'good governance' that is not good for limiting greenhouse emissions. Thus there is an ethical hierarchy to be teased out conceptually and empirically. In this, there is an implication that the exigencies of moderating climate change are superior to those of promoting 'good business climates' (Stern 2007).
Naturally, research needs to be informed by and conducted against benchmarks or at least templates of known good practice exemplars. Here, these will be drawn from two Scandinavian cities of different sizes, both with strong international reputations for demonstrable commitment and achieved outcomes in some or all of the content areas noted above. The cities are Copenhagen, Denmark and Malmö, Sweden. Briefly, both tackled the first content area – agro-food - by transforming food procurement from conventional to organic, Copenhagen including schools, hospitals, day care and long-term care homes, Malmö mainly schools. Together, these city strategies on organic canteen food alone contributed to a 2.25 % reduction in CO2 emissions from their institutional food chains. In the second content area, Malmö's municipal car fleet has, in 2007, 150 of a planned 250 'cleantech' vehicles, passenger transport CO2 emissions have reduced by 10-15 % in Copenhagen 1996–2006 following establishment of urban environmental zones and clean technology measures. With respect to content area four, in Copenhagen up to 80 % of city household waste is used in Energy from Waste (EfW) power plants while over 70 % of all waste is recycled. Regarding energy, the third content area, more than 25 % of electricity generation in Copenhagen is from renewables, notably wind (4 %) and solar power (3 %) in addition to waste (26 %). Malmö has approved building of a biogas from waste biofuels plant. Copenhagen had, from 1990 to 2005 reduced overall CO2emissions by 23 %. It is planned to reduce by 35 % 1990–2010. These achievements led to Copenhagen being elected Environmental Capital of Europe and International Solar City. In its latest Agenda 21 Plan Copenhagen's own energy consumption is planned to be reduced by 5 % 2002–2007 Copenhagen Environmental Protection (Agency 2006; City of Malmö Environment Department 2006).
The research objectives of this chapter and its content are, accordingly, as follows. First, it outlines ways to determine theoretically reasons for variety in the extent of commitment by cities to policy agendas prioritising measures designed to minimise emissions believed to be significant contributors to climate change. Second, it suggests ways to develop better urban governance theory through contributing new comparative conceptual and some limited empirical material on interpreting substantive policy rationales that cities may pursue, such as pro-growth versus pro-green, and possible resolutions of apparent conflicts. Third, it addresses ways to evolve a typological framework for categorising cities according to 'sustainability performance' on the x-axis and their 'governance mode' on the y-axis (Fig.
1
). Fourth it indicates how to test the typology in Fig.
1
utilising the four key
performance
variables identified for all cities as controlling emissions from: food consumption; passenger transport; energy use; and municipal waste, against three
governance modes
: inclusive governance/responsive government; responsive governance/proactive government; exclusive government/reactive governance. Finally, it hints at ways to derive a governance/government taxonomy of cities according to the extent they interact measurably with any of six governance contexts: political composition, officer influence, transnational sustainability networks, associative governance, knowledgeable governance, and 'cleantech' business interaction.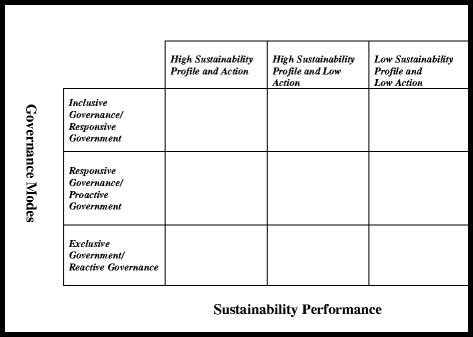 Conclusions
We devoted this space to the subject of 'green governance' showing how some countries and municipalities have taken seriously their obligations under the Kyoto, Montreal Bali and in 2009 Copenhagen climate change protocols, while many others have not. It was shown what kind of activities can be successfully undertaken to moderate emissions in cities, notably Copenhagen in Denmark and Malmö in Sweden, both recognising that cities is where most citizens live and that much can be done to reduce emissions from energy consumption, through recycling and by 'clean' transport and environmental policies. It was subsequently shown how much GHG pollution is contributed to the earth's atmosphere by CEE compared to older EU member countries and argued that attention must swiftly be devoted by the governance systems at state and municipal levels in CEE to reduce these.
It was further shown how understanding of and action to moderate the problem is being undertaken in the world's leading 'green economy' of Denmark but also in a part of the UK, namely Wales, that has some greater similarities to the heavy industry legacy of CEE. In Wales, a latecomer compared to Denmark, regarding emissions controls it was shown that even relatively humble crops like grass for cattle feed can, when improved through research and innovation, make a globally valuable source of bioethanol and biomass energy generation. It is incumbent on CEE countries to observe and apply these types of cellulosic sources of alternative, renewable energy as their fossil-fuel burning power stations inevitably decline unless they are appropriately modernised in line with new, exacting EU emissions targets. This can act as a lighthouse pointing the way for the CEE blocs that are not constrained by EU conventions but will nevertheless be made aware of their climatic obligations by the new, tougher constraints that will arise following the 2009 Copenhagen climate summit. The time for action has nearly passed, with some commentators saying we need immediate massive reductions in CO2 if global warming is to be steadied let alone reversed. A 'green' consciousness among the populace, comparable to the Danish protests that overturned government commitment to nuclear energy, is needed to achieve the result of truly 'green governance' in CEE as well as EU and OECD countries.
Authors' Affiliations
(1)
Center of Innovation, Bergen University College, Bergen, Norway
Copyright
© Cooke. 2015
This is an Open Access article distributed under the terms of the Creative Commons Attribution License (http://creativecommons.org/licenses/by/4.0), which permits unrestricted use, distribution, and reproduction in any medium, provided the original work is properly credited.